Special Offers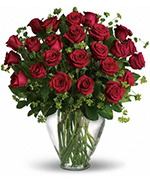 $

189.95
When it comes to romance, the red rose rules! And when it comes to delivering romance in a big way, two dozen gorgeous red roses are a brilliant choice. Twenty-four stunning red roses are arranged with greenery and delivered in a feminine vase. [...]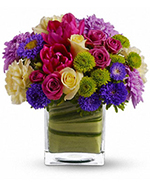 $

74.95
Oh, what a fine day it will be when you have this delightful spring bouquet delivered to someone special. Everyone will delight in the vibrant colors and bountiful blossoms, all thoughtfully arranged in a beautiful leaf-lined vase. Light yellow roses, hot pink spray roses, tulips and gerberas, yello [...]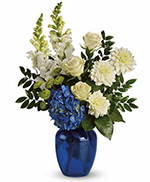 $

79.95
Sending this brilliant blue and white bouquet will surely garner oceans of appreciation from whoever receives it. Dazzling blue hydrangea, green roses and button spray chrysanthemums, divine white dahlias and snapdragons plus huckleberry arrive in a striking cobalt vase. [...]
Flowers are an incredible way to enhance the beauty of your home and can also be gifted to people to brighten up their day or show them how much you mean to them. So, if you want to bless someone's day with lots of sweet surprises in Tulsa, consider sending them a bunch of beautiful, fresh flowers.
Recent Products
Roses
Our list has to begin with roses because they are one of the most popular flowers in the world and are loved for their enchanting beauty. If you think that Valentine's Day is the only time of the year to give someone roses, you're wrong. Any time you want to express sweet sentiments or make someone feel special, you can give them a rose.
Yellow Chrysanthemum
Now let's talk about the happiest color - yellow. A yellow chrysanthemum inspires feelings of warmth. It drives contentment, clarity, and confidence. A surprise bouquet of yellow chrysanthemums can be a great gift for someone who is going through a difficult time.
Water Lilies
Water lilies are the queen of all aquatic flowers. Seventy different types of water lilies can grow in still, shallow, freshwater ponds or lakes. They are indeed beautiful and will look lovely in anyone's backyard or home. One of the most eye-catching features of water lilies is their lovely petals that float on the water surface. The flowers emerge out in the water in a variety of colors, including pink, yellow, orange, purple, white, and blue.
Dahlias
There are at least 42 different types of dahlias in the world. These flowers have always been on top of the list of almost every flower lover. They are loved for their size, shape, and unique colors. Plus, they are available in almost every unique color (except blue). This flower is native to Mexico, but today it can be found almost anywhere in the world.
Gerberas
The gerbera daisy is also quite popular. They are native to South Africa, which is why they are sometimes referred to as African daisies. However, they can also be found in some parts of Asia. These flowers are found in at least 15 different colors, including orange, pink, purple, and white. So if you want to give someone a sweet surprise in Tulsa, you should send them a lovely bouquet of colorful gerberas.
Carnations
Carnations are year-round flowers offered by every local flower delivery service. Giving someone carnations is the best choice if you want to surprise them. They represent intense feelings, such as love and admiration. If you are planning a surprise proposal, then go with red carnations.
Orchids
Orchids are exotic and beautiful. They can be difficult to grow, but this is mainly the reason why they are so popular. In addition, they have a lot of positive meanings associated with them that make them ideal for anyone to have. These amazing blooms can be great for birthdays, weddings, and many other occasions.